Grab a Bite
in Downtown Franklin, Indiana
No one should leave Downtown Franklin, Indiana hungry. Our locally-owned restaurants feature everything tasty from Hoosier fare to fine dining.
Whether you are coming downtown to meet friends, enjoying a date night, starting your day with breakfast or seeking pizza for the kids, here are some of our recommendations:
Recommended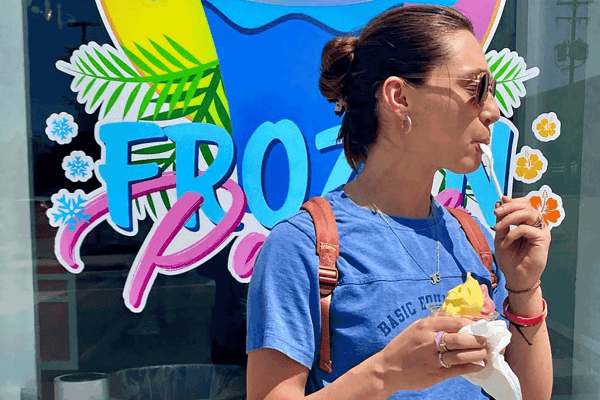 Jess Giles
Executive Director, Discover Downtown Franklin
Established in 1952, Ann's Restaurant has been a Franklin breakfast staple for generations. The big picture windows look out onto the beautiful architecture of the Johnson County Courthouse, a perfect morning view to pair with their Rise and Shine Breakfast – two pieces of French toast, two eggs cooked to order, and a choice of bacon or sausage.
Looking for wonderful service and a broad menu? A great lunch stop is Court Street Café. Our personal favorite is a half Kale Cobb Salad with poppy seed dressing. Oh! Don't pass up the Chicken Velvet soup if you've worked up an appetite!
The ambiance is built right into the name – cozy up in the delicious warmth produced from the authentic brick oven at Richard's Brick Oven Pizza. The restaurant doubles as a beautiful gallery space, sporting works from local legend John Strickland. In the warmer months, you can enjoy owner Meg Jones' green-thumbed talents in the outdoor seating area. String lights shed light on their famous Garlic Pinwheels, and my personal choice of a Hawaiian Pizza.
A new and quickly popular spot in downtown Franklin, Frozen Paradise features the delectable Disney signature – Dole Whip! A soft serve, dairy-free frozen dessert, I personally enjoy the Mango flavor. In addition to dole whip, Frozen Paradise has an extensive menu of snow cones, acai bowls, and more!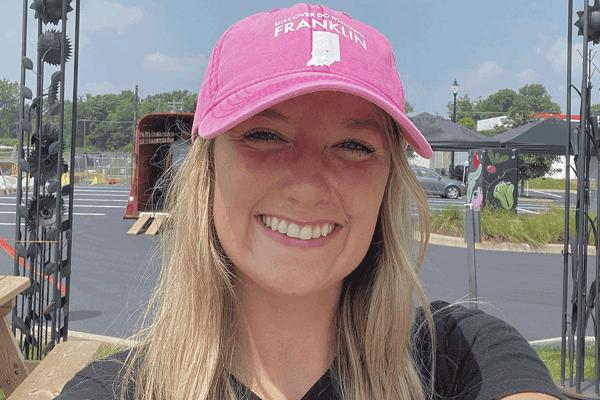 Traci Hill
Marketing Coordinator, Discover Downtown Franklin
Blue Cactus is my top choice for date night! You'll be greeted with endless amounts of chips and queso to start off the evening followed by my favorite - Tacos Vallarta with pineapple salsa. If you're not too full after that, end the evening with traditional fried ice cream.
After a morning of shopping at the farmers market, stop by Coffeehouse Five for the most amazing parmesan chive biscuit smothered in their sausage gravy and topped with over easy eggs if you choose. Pair it with an iced carmel macchiato, and your belly will surely be satisfied.
Ice cream and summer go hand in hand! If you're enjoying a day out in downtown Franklin, be sure to stop into Hoosier Cupboard Candy, Snacks and Ice Cream. They have over 750 treats ranging from truffles, assorted chocolates, taffy, glass bottled sodas, ice cream, and more. If you're a chocolate lover like I am, try their chocolate brownie ice cream.